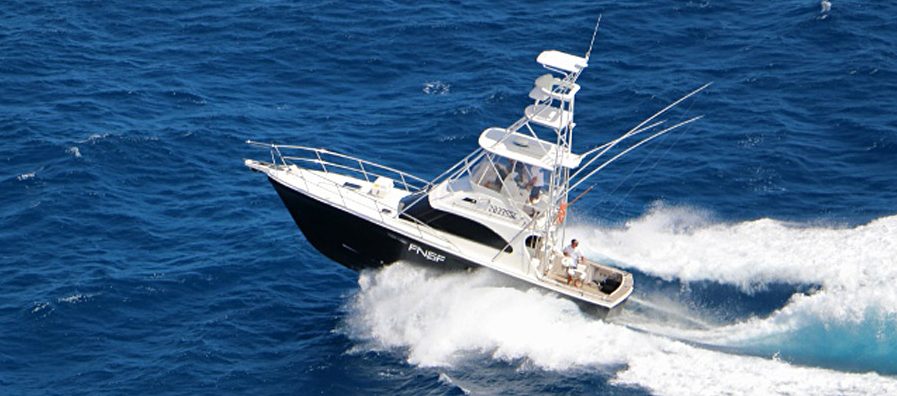 FAR NORTH SPORT FISHING
REMOTE BARRA FISHING
FNSF'S remote Barra expeditions are tailored to the angler with a taste for adventure and coincides with the annual wet season run off from February to April. Catering for six guests, you depart Cairns or Port Douglas by helicopter for a magnificent 2 hour low level flight along the coast line then up Cape York to Princess Charlotte Bay.
You will rendezvous with their mothership, Blue Martini, then spend the next six days fishing aboard our 20′ Centre Consoles with our world class guiding team. You will target the likes of Barramundi, Fingermark, Queenfish, Nannygai, GT's and a host of other fresh and saltwater sport fish in extremely remote waters very rarely fished. We even spend time chasing monster mud crabs. This trip is a truly remote and special experience.
SPORT FISHING
The Northern Exposure charters run at different times throughout the year and cater for groups of up to six guests who meet the FNSF team aboard Blue Martini departing from either Port Douglas or Lizard Island. From the Centre Consoles you will fish the famous Ribbon reef flats, St Crispins, Escape and other reef systems which are rarely visited.
Using techniques from popping, jigging, trolling, fly and reef fishing you will target massive GTs', Spanish Mackerel, Coral Trout, Wahoo, Tuna, Red Emperor and a host of other species. These trips coincide with the annual Giant Black Marlin season. We can also customise a mother ship package with our 40′ game boat Black Magic and a truly world class heavy tackle team.
BLUE WATER GAME
These Blue Water Adventures are very much a bespoke charter ex Port Douglas and Lizard Island, available from May thru October. Catering for up to eight guests with a minimum charter of two nights.
You can transfer to Blue Martini on the reef either by way of helicopter, fixed wing or our 40′ game boat Black Magic.
Fish from our 20ft Centre Consoles for Red Emperor, Nannygai, Coral Trout, GT's, Tuna, Spanish Mackerel and a wealth of other species. At this time of the year there we also target juvenile black marlin leading up to our heavy tackle season which runs from September thru to early December.
THE VESSELS
BLUE MARTINI
Our recently refitted 70′ Mothership Blue Martini, provides the combination of luxury and comfort for extended long-range charters to remote locations along the Cape York Peninsula and beyond.  Blue Martini has three separate levels and multiple dining areas. Our on board chef creates haute cuisine from an extensive galley which is served by our on board hostess. We are also fully licensed with a fantastic vintage wine list.
Blue Martini can sleep up to eight guests in air-conditioned comfort across two ensuited queen cabins and two twin share cabins. A full daily housekeeping service is provided and array of water sport equipment is also available.
BLACK MAGIC
Black Magic is a 40ft custom-built Black Watch game boat and provides a great platform for heavy and light tackle, saltwater fly and reef fishing. Black Magic is fully equipped with state of the art fishing tackle, from custom-built rods to the very best in Shimano and Penn reels.
She sleeps up to four clients in air-conditioned comfort across two cabins. With a generous on board power system, a state of the art water maker and spacious bathroom, Black Magic is a great vessel to spend short to medium stays out on the Great Barrier Reef.
Black Magic is also an ideal vessel for snorkelling and scuba diving.
CENTRE CONSOLES
BM1, BM2 & BM3 are our three custom-built 20′ centre consoles purpose built for FNSF by Hooker Boats in Cairns. Their hulls are designed specifically for Far North Queensland conditions. Powered by very reliable 100HP Yamaha's they are each equipped with state of the art Garmin electronics.
The centre console configuration provides clients both a practical and comfortable layout across many styles of fishing from popper and saltwater fly fishing to trolling and reef fishing. Each centre console is equipped with the very best in custom-made rods and Shimano reels and is skippered by one of our expert local guides.