GAME FISHING – CHARTER OPTIONS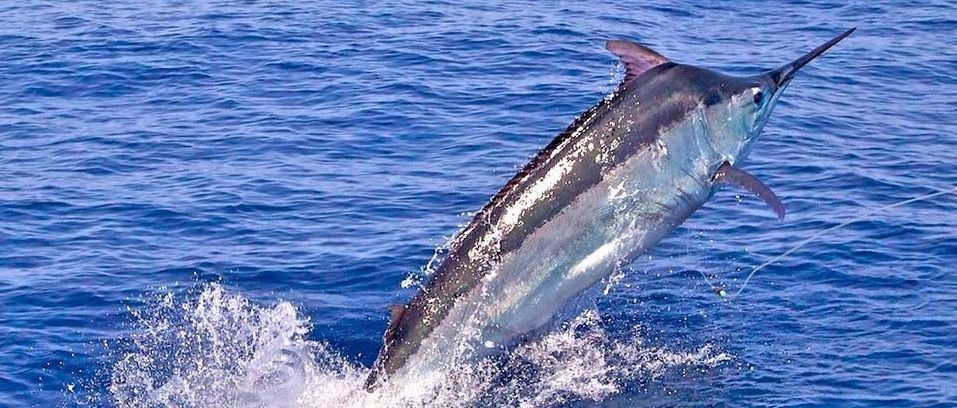 GAME FISHING CHARTERS - PRICING
Light Tackle Day Charter – From $1950
Heavy Tackle Day Charter – From $2450 
GAME FISHING – CHARTER OPTIONS
An extended charter is the way to go, traveling out wide to the fishing grounds outside the Great Barrier Reef and once the schools have been located its an easy matter of anchoring up behind the protection of the reef each evening. That way you are into it first thing next day and the pure magic of being on the water in such a pristine environment is second to none.
Imagine dropping anchor in a seclude lagoon, dangling a few heavy hand lines over the side – just for fun – while waiting for your evening meal to be prepared by the expert hostess.
That's if your arms are not too tired from fighting the big ones all day on quality 80 – 130 lb custom built tackle, the finest in the world. Or just sit back, relax, watch the sun slip below the ocean in a blaze of red – orange glow and sip on an ice cold beer!
Areas fished can range from north to Lizard Island and south to Dunk Island – seasonal conditions apply.
Tournament options are also available if booked in advance.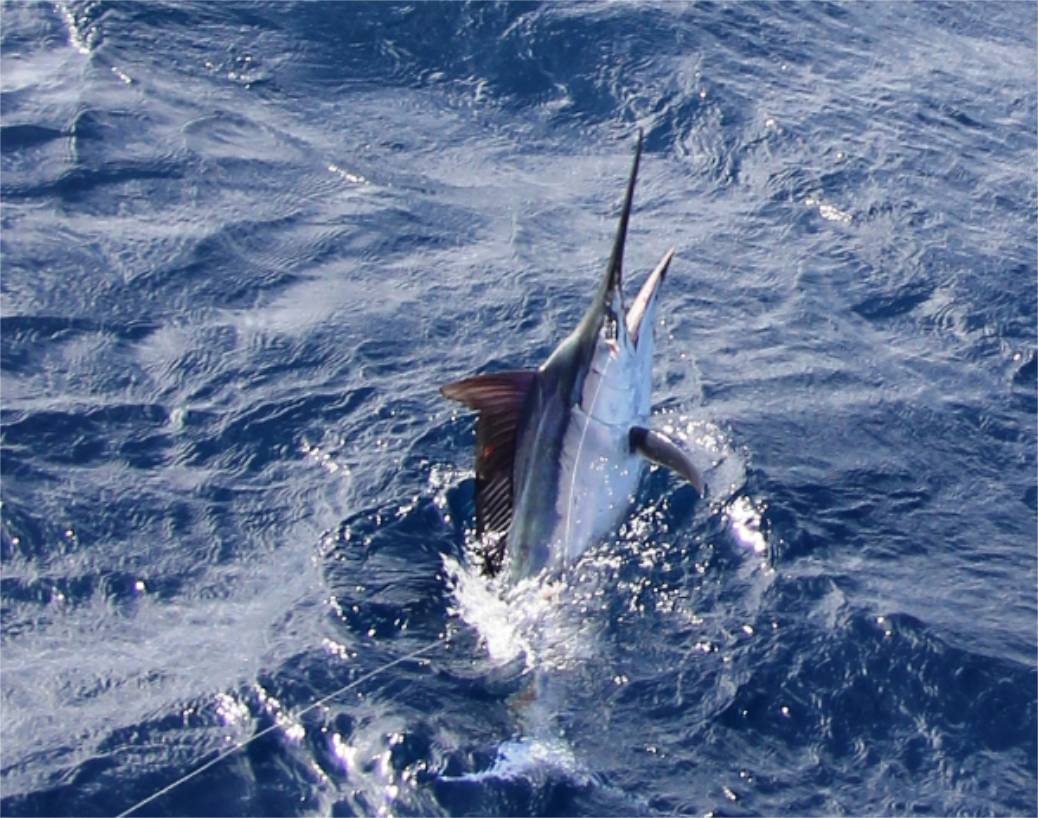 Bounty Hunter
Game Fishing

Bounty Hunter is based in Cairns, North Queensland, Australia. This location gives you the ease of access to the inner and outer reefs from Cairns and nearby Fitzroy Island where the juvenile Black Marlin & Mackerels are during the cooler winter months.
She has a practical yet fully live aboard capable lay out, allowing for extended outer reef fishing charters. Heavy Tackle Black Marlin fishing is what Bounty Hunter does best & was designed for, giving those on board a once in a life time fishing opportunity. She also has an extensive range of the latest fishing tackle, lures, riggs and equipment to allow for the best opportunity in catching these legends of the sea.
Bounty Hunter is surveyed to travel with 10 on board including crew and will also comfortably sleep 6 on board with ease.
Bounty Hunter also has contacts with many large motherships that she has worked with in the past allowing you the comforts of having a hotel on the sea. This allows you the flexibility of a day fishing vessel teamed up with the 5 star services that can be delivered with a moored vessel.
As a locally owned & run vessel, Bounty Hunter is able to fish all year round and is the perfect day boat for the light tackle season, with the speed and comfort to have you out fishing on the Great Barrier Reef and back within the same day.
Out of Cairns, Bounty Hunter fills her fishing list with the delights of the sea such as Juvenile Marlin, Sailfish, Dolphin Fish, Mackerel, Giant Trevelli & Tuna. Bounty Hunter also is versatile with her style of fishing from Trolling to Popper Chucking.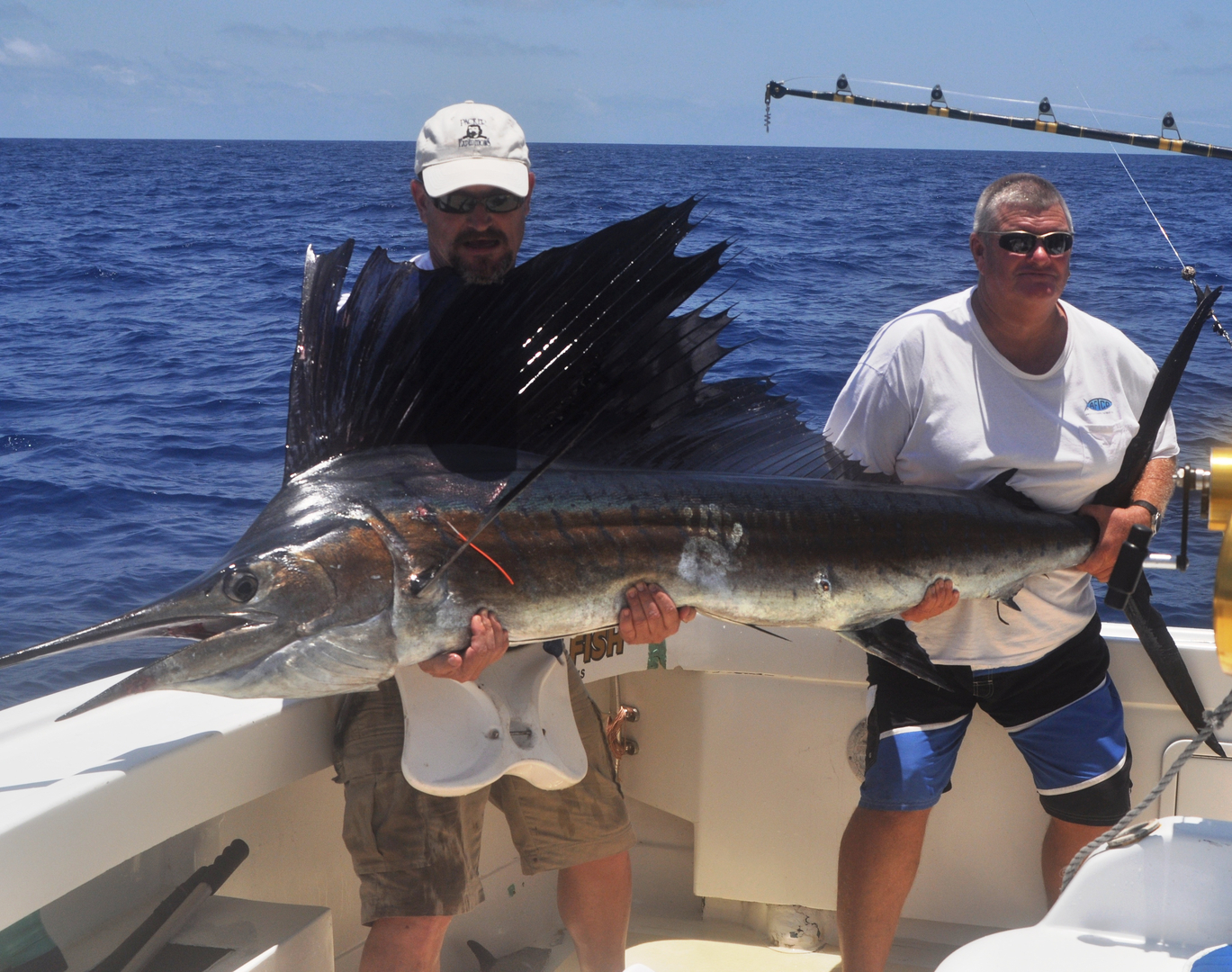 Billfish Sport Fishing
Game Fishing

With Billfish, fishing is seasonal, year round we fish light tackle, for species such as Spanish Mackerel, Yellow fin Tuna, Sailfish, Juvenile Black Marlin, Wahoo and more. But from September to December we offer the ultimate experience, chasing giant Black Marlin on heavy tackle.
For fishing out of Cairns , you can't go past booking a charter with BILLFISH SPORT FISHING.  Owned and operated by Rick and Margie Eustace since 1999 they offer adrenalin fishing with a mix of fun, comfort and very user friendly for the experienced angler, the novice angler, kids, family groups or just a bunch of mates. Our charters are designed to suit the anglers, whether you only have time for a single day charter or maybe you would like to get a group together and make a holiday of it, you can join our crew on an extended live aboard charter with a mix of fishing, swimming and fun.  So what are you waiting for, contact us for more information and let us help you get THE CATCH OF THE DAY
We can sleep 5 persons in comfort, plus crew.  A double cabin up front which can be converted to a twin, two more bunks opposite a large bathroom featuring a toilet, basin and shower and there are two bunks in the saloon area.
Heavy Tackle charters:
If it has been on your bucket list to catch a GIANT BLACK MARLIN, then read on: We take a maximum of 4 anglers on our live aboard heavy tackle charters, depart Cairns Marina at 8:00 am and steam out to the outer reef.  We start the day with some light tackle fishing for fresh bait for the day and fresh fish for dinner, then set the big gear up to target GIANT BLACK MARLIN.  It will depend on the number of days booked as to how far we travel up the to the Ribbons Reefs.  Just like the Light Tackle extended charters we anchor behind a safe reef at night and enjoy entertainment, yummy meals and a few drinks and in the morning have a swim and snorkel before setting off for the next days fishing adventures
Light Tackle charters:
Depart Cairns 8:00am and steam out to our first destination Fish Light tackle 15kg line trolling for palagic species in season such as Spanish Mackerel, Tuna, Sailfish, juvenile Black Marlin, Baracuda, Wahoo and more. Anchor overnight at a safe reef ancorage, enjoy yummy meals, a few drinks and many stories and in the morning have a swim / snorkel before heading out for another days exciting fishing,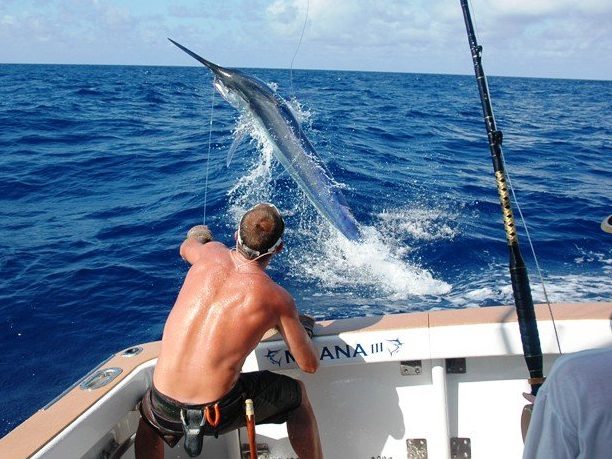 Moana III Fishing Charters
Game Fishing

Giant Black Marlin Fishing the deep blue waters between Cairns and Lizard Island and out to and beyond the continental shelf well into the Coral Sea is unquestionably the World's premier location for prestigious game fishing and that is why it is attractive to many anglers from around the globe.
Black Marlin peak season runs from September through to end December and this is generally the best time to come and experience the very best in Australian Game Fishing in Cairns.
These marine giants congregate along the seaward edge of the Great Barrier Reef, and along the 150 NM edge of the continental shelf and from Lizard Island and the Ribbon Reefs to the north, to south of Cairns. This is what makes our region so desirable with the reliability of their return each season. Many years of tag and release fishing and use of circle hooks by the Cairns Professional Game Fishing Association has ensured this area remains the most sustainable fishery for the Giant Black Marlin in the world. There are many Huge Marlin caught and released every season. Last year over half the fish we caught were over 900lbs!!!!!
Also on Moana III, experience Great Barrier Reef Fishing, deep sea fishing and exhilarating light tackle sports fishing, with the thrill of catching the stunning juvenile Black Marlin, Sailfish, Spanish Mackerel, Giant Trevally, Yellow and Blue Fin Tuna, Dog Tooth Tuna, Wahoo, Cobia, Mahi Mahi and many other varieties. These fish all roam the waters on edge of the magnificant Great Barrier Reef, just an hour out from the Cairns Marlin Marina. The Great Barrier Reef is the largest fish attracting device on the globe with a varietiy of excellent fighting fish to catch. Reef Fishing for Coral Trout, Nannygai, Red Emperor, Job-fish and many others are also a perfect way to enjoy a memorable fresh fish meal. The Juvenile Black Marlin, roam areas less than one hour from Cairns. These fish range in size from 20lbs to 120lbs and are prime fun light tackle sportsfishing. The cobalt waters off Cairns are world renowned for its action and variety of pelagic sports fish and our trips visit different parts of the reef depending on where the fish are biting!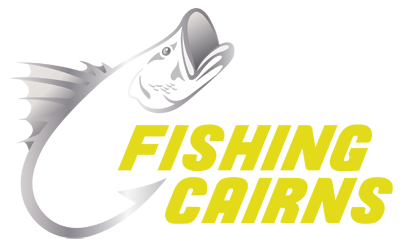 Top Shot
Game Fishing

Charter the 43 Obrien with legendary Skipper Ross Finlayson on the Great Barrier Reef off Cairns. TOP SHOT is a 43 foot fly bridge cruiser, repowered in July 2011 with twin 500 HP Yanmar engines.
With a top speed of 30 knots and cruise speed of 22 knots, she is known for her excellent sea handling capabilities. Providing a dry, stable ride, she sets a benchmark for craft in her class. A fine fishing platform, with a wide, spacious, uncluttered cockpit area allowing ample room for anglers and deckhands.
Electronic fit out is extensive and includes 2 radios, radar and 2 navigation systems for pin point accuracy on fishing grounds. Twin Furuno sounders with dual frequency and sea temperature sensors provide state of the art fish-finding capability.
The air conditioned cabin and saloon plan, affords anglers indoor comfort. A complete view from the saloon invites instant response to any action in the cockpit.
Accommodation forward is four V berths with the lower V forming a double berth, when necessary. The forward cabin also includes an additional double berth and single berth. The saloon has table and surround lounge seating on the port side with another lounge on the starboard side. Separate toilet and shower are housed in the cabin.
Three freezers and two large fridges provide excellent refrigeration capabilities. Full galley, water maker, hot and cold water, micro wave, T.V. video, hi-fi radio and CD player are all present for client comfort and satisfaction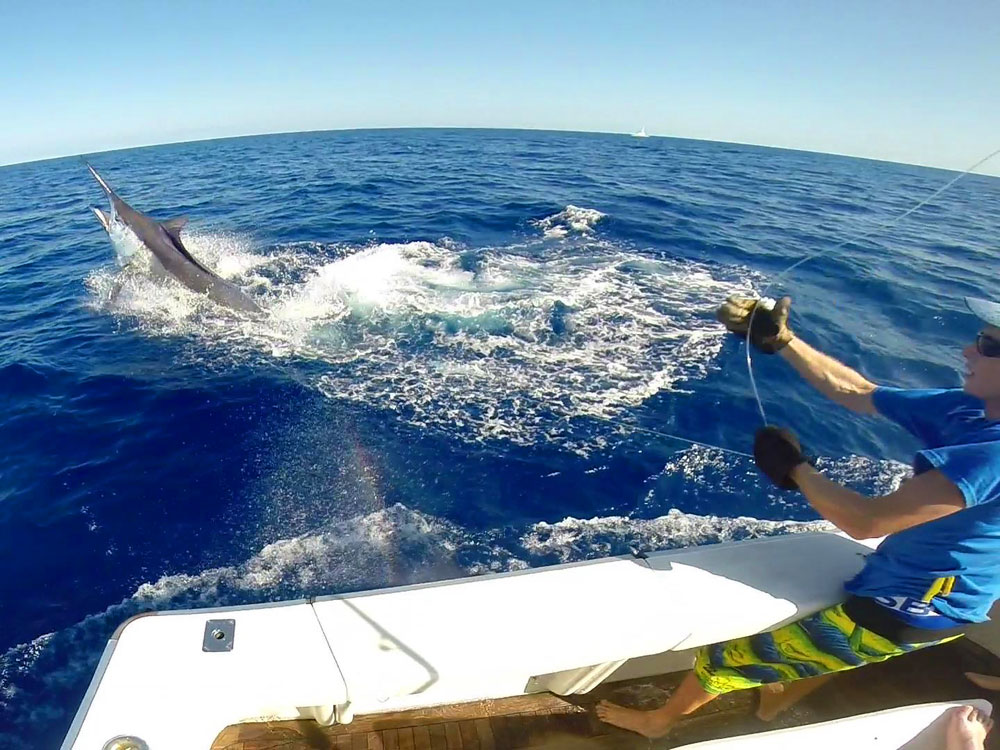 Saltaire Charters
Game Fishing

The 150 miles from cairns to lizard island is the undisputed home of the Giant Black Marlin. More Black Marlin over 1000Lbs are caught here every season than anywhere else in the world. September to mid December is the best time to catch one of these monsters.
HEAVY TACKLE CHARTERS
Fishing for Giant Black Marlin is the ultimate experience of a lifetime. Saltaire is a classic 34ft blue water quarter-horse vessel and has witnessed some of the most exciting fishing to be experienced on the Great Barrier Reef, the coral sea and beyond to the vast reaches of the untamed waters of Papua New Guinea. Based in the Reef Marina Port Douglas, 30nm north of Cairns and a short run to the barrier reef , Saltaire is available for popper casting for Giant Trevally, light tackle, heavy tackle, reef fishing and personalised charters including cruising, snorkelling and diving. With comfort, speed and great service on your side you will be amongst the serious action on offer whether it will be giant Black Marlin, pelagic species, Giant Trevally or classic reef fish.
LIGHT TACKLE FISHING
Available all year round, the change of seasons brings different species to target. The run of juvenile black marlin are from july to october and are an exciting catch on 10kg line. There is a number of mackerel species to catch and can be caught most of the year. Other species are northern bluefin tuna, yellowfin tuna, wahoo, mahi mahi & giant trevally.
REEF FISHING CHARTERS
Reef fishing can be experienced all year round with a large variety of species. Rod and reel or the more traditional hand line can be used with dead bait, live bait or soft plastics when on a Reef Fishing Charter. The main species we target are coral trout, large and small mouth nanyagai, red emperor, spangled emperor, sweetlip, reef jacks & trevally.
GT POPPER CHARTERS
Casting Poppers for Giant Trevally is one of the most exciting forms of fishing. Watching a GT smash a surface bait and head straight for the reef edge or bommie can make you week at the knees. We specialize in targeting these big GT's and use Shimano Stella 18000 Reels with 100lb gerry brown braid on a Yamaga blue reef rod to land these amazing fish.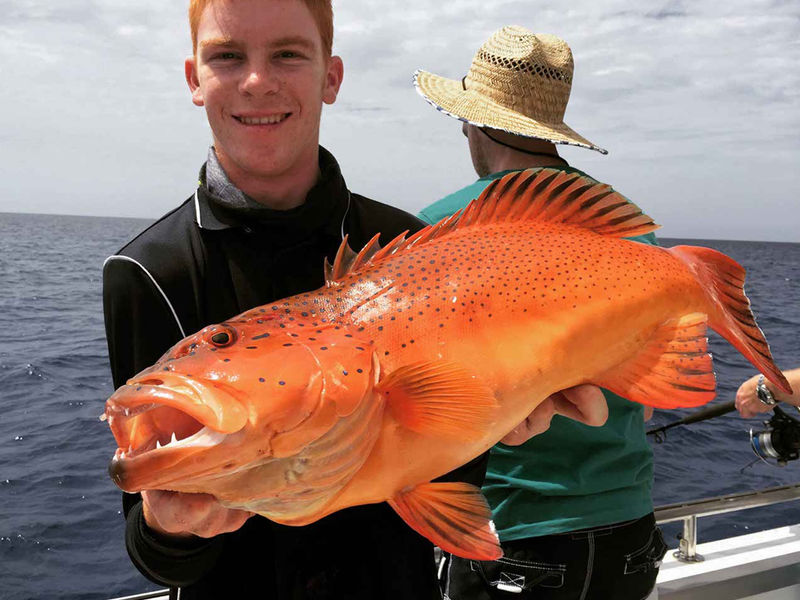 Dragon Lady – Port Douglas
Game Fishing

If it is a relaxing day of bottom fishing, a tough day shark fishing, an adrenalin filled day of light tackle fishing and popper fishing or the ultimate in sport fishing – heavy tackle, Dragon Lady provides the equipment for a fun filled day on the Great Barrier Reef.
Dragon Lady offer Game, Reef and Sports Fishing Charter Options
Fishing from Port Douglas is very popular due to its closeness to Australia's top fishing destinations on the Great Barrier Reef.
Depending on the conditions we normally travel 20-25 miles to the expansive outer reef systems on our reef fishing expeditions. Game fishing charters can see us travelling up to 30 plus miles to fish the open grounds of the continental shelf. Travelling time to our chosen destination can vary from 50 minutes to 80 minutes.
Your day includes a light tropical lunch and refreshments. Alcohol is BYO.
With over 35 years local fishing experience, Skipper Steve Adamson and friendly crew aim to provide you with a fun filled day on the Great Barrier Reef.
Private Charters
Reef Sole Charter: from $2200 (all year round)
34ft Vessel – max. 8 passengers Reef Fishing, Game Fishing, Snorkeling & Diving, Sand Cays & Island Lagoon visits
48ft Vessel – max. 17 passengers Reef Fishing, Snorkeling & Diving, Sand Cays & Island Lagoon visits
Game Fishing – 34ft Vessel
Light Tackle or Popper Fishing Charter $2200 (all year round)
Shark Fishing $2200 (all year round)
Heavy Tackle Charter $2400 (September to December)
As a private charter a combination of reef and light tackle is available as well as tailor made snorkeling, diving and island / sand cay visits.
All private Reef, Light tackle, Popper, Shark Fishing and Snorkeling trips run from 8.30am to 4.30pm. Heavy Tackle Game Fishing Charters run from 8.30am to approximately 6pm. The service is inclusive of fishing tackle, lunches, soft beverage, snorkeling gear & EMC tax – no more to pay.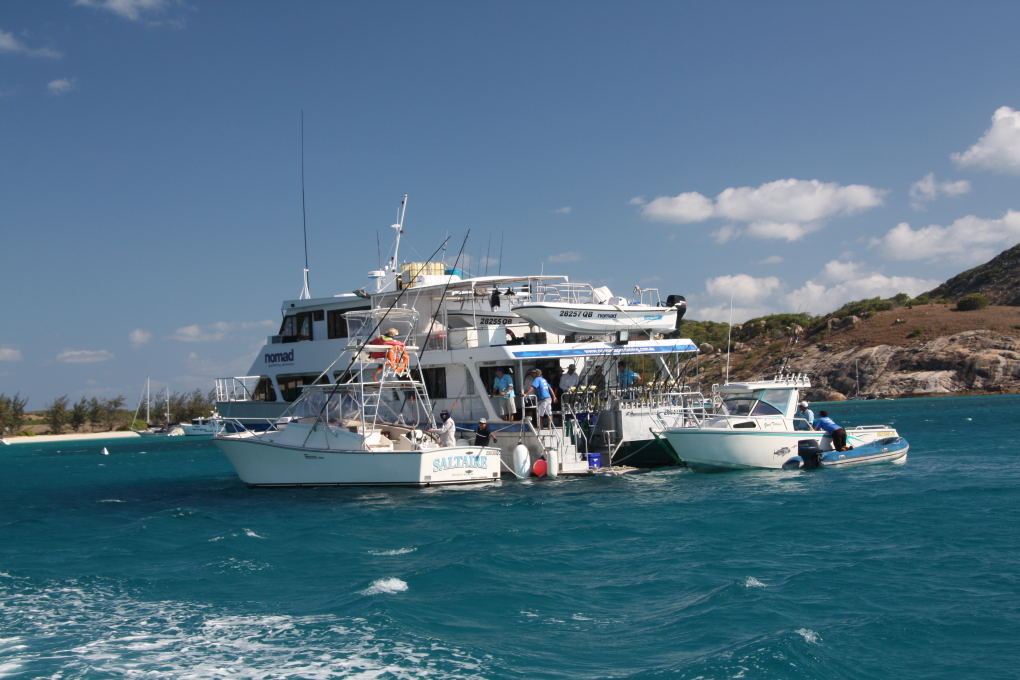 Nomad Sportfishing Adventures
Game Fishing

Nomad Sportfishing has a long history of providing pioneering and unique mothership trips to fish some of the world's most remote reefs. Our 80ft mothership and years of experience allow us to access places that nobody else can get to.
When do we fish the Ribbon Reefs?
The Ribbon Reefs provide excellent year round fishing, and we access the area as part of our Coral Sea Lagoon Explorer trips , offering 3 and 4 day packages, starting at $3100/person + flights ex Cairns.
Nomad Sportfishing Extended Mothership Charters start at $2950pp + transfers ex Cairns. We can customise dates for whole boat bookings, or we cater for individuals or smaller groups to join one of our scheduled trips. Odyssey can accommodate up to 12 anglers. Nomad Gameboat day trips ex Port Douglas start at $2400/day for the boat which can be shared between 4-5 anglers. Just fill in our enquiry form and we'll get you on the water in no time.
The Iconic Far northern Great Barrier Reef – A Sportfishing Paradise
Excellent GT fishing
Light tackle lurecasting the reef flats for Groupers, Red Bass, Emperors, and much more
Micro jigging and soft plastic fishing the reefs is spectacular
Big Spanish Mackerel trolling the reef edges
Great reef fishing for Coral Trout, Emperor and other reef fish
Black Marlin, Yellowfin Tuna, Wahoo and Dogtooth are possible on the outside edge of the reef
Accessed on a Mothership Drive out trip

Ribbon Reef Location Information

The Ribbon Reefs were the scene of the iconic and groundbreaking video by Malcolm Florence titled "The Great Reef Exploration", filmed in the late 1970's. Back in the seventies, this area was considered the ultimate in remote Sportfishing locations – incredibly remote, pristine reefs that could only be accessed by large vessels with significant fuel capacity.

 Not much has changed really….And the fishing is just as good as it ever was. It's still very remote, and rarely fished.

The Ribbon Reefs are famous for the incredible fishing for giant black marlin, and this 100 mile stretch of reef is the single best place in the world to catch giant black marlin. But it's not just marlin that find these waters incredibly appealing. This stretch of reef is home to a massive variety of species, with big GTs, yellowfin, coral trout, red bass, yellowfin tuna, wahoo, sailfish and many other species calling this place home. So no matter what bluewater species you want to catch, the Ribbon Reefs offer an amazing fishing experience

When do we fish the Ribbon Reefs?

The Ribbon Reefs provide excellent year round fishing, and we access the area as part of our Coral Sea Lagoon Explorer trips , offering 3 and 4 day packages, starting at $3100/person + flights ex Cairns.

Nomad Sportfishing Extended Mothership Charters start at $2950pp + transfers ex Cairns. We can customise dates for whole boat bookings, or we cater for individuals or smaller groups to join one of our scheduled trips. Odyssey can accommodate up to 12 anglers. Nomad Gameboat day trips ex Port Douglas start at $2400/day for the boat which can be shared between 4-5 anglers. Just fill in our enquiry form and we'll get you on the water in no time.