BARRON RIVER CAIRNS
FISHING LOCALITY GUIDE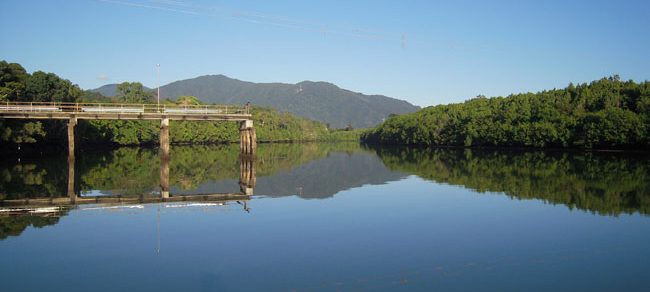 BARRON RIVER
Just north of the Cairns International Airport, and only 5 minutes from downtown Cairns, flows this pretty little waterway. Trailer boat access is available at Stratford, next to the Captain Cook Highway bridge and at Machans Beach. Tackle, ice and bait are also available at Stratford.
Most of our prime tropical river and estuary fish can be caught from the Barron and there are also several locations suitable for the land based angler. The old Kamerunga bridge upstream from the highway has been converted into a fishing platform. Grunter, Jacks, Bream and Trevally are caught here using prawn or fish baits.The sand flats at the mouth also provide excellent family fishing for winter Whiting, Bream, Flathead, Grunter, Salmon, Trevally and the occasional Barramundi.
Local river prawns caught by cast net as the tide leaves the mangroves are the best baits. Gang them up on a suitable sized hook on a standard running sinker rig. Sardines and mud herring are the next preferred baits.
Fishing is best an hour either side of the turn, however the neap tides are not very productive.
Upstream from the old bridge is a rocky bottom area and good catches of winter bream are had here. Try to keep relatively quiet when moving around as the river is shallow and any disturbance could scatter the fish.
There is a deep hole at the junction of Redden creek which can produce big Barra, Jew, Grunter and Trevally. Barra fishing is best just prior to and after the wet. A rising tide is best, and fish next to the mangrove edges.
Another known fish producing area is at the last bend of the river proper, just as it enters the sea. There is a good gutter here which will produce around the bottom of the tide.
Click here for Boat Ramp information for this locality.