FISHING PORT DOUGLAS
BROWSE OUR CHARTER OPTIONS FOR PORT DOUGLAS HERE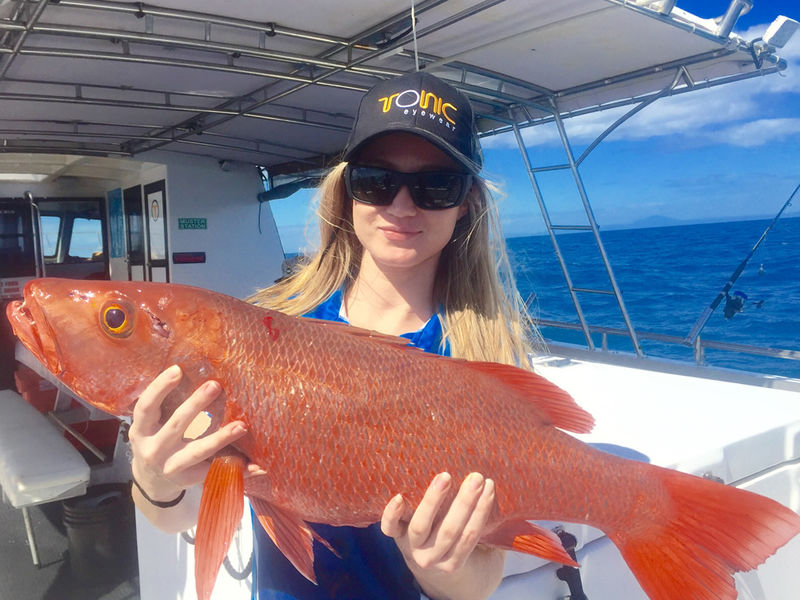 DRAGON LADY
Reef Fishing   -   From Pt Douglas
Heading out to the reef from Port Douglas you can expect to catch Coral Trout, Red Emperor, Small & Large Mouth Nannygai, Trevally species, Spanish Mackerel, Emperor species, Cobia, Reef Mangrove Jack, Sweetlip, Cod species and a host of others.
REEF FISHING SHARE CHARTERS
$299pp.           48ft Westcoaster.       Dragon Lady
Max. 12 passengers ensures quality service inclusive of rod/reels, handlines, lunches, soft beverage, EMC tax – no more to pay.
Trips run from 8.30am to 4.30pm. There will be a deck hand on board to clean and bag the fish for you should you choose to keep legal catches.
Targeted species during the course of the day can include: Coral Trout, Nannygai, Red Emperor, Trevally and Mackerel species amongst a host of others. These fish are found on the outer reef some 20 miles offshore. Locations are normally reached within 50-60 minutes of departure.
---
PRIVATE CHARTERS
Reef Sole Charter: from $2200 (all year round)
34ft Vessel – max. 8 passengers Reef Fishing, Game Fishing, Snorkeling & Diving, Sand Cays & Island Lagoon visits
48ft Vessel – max. 17 passengers Reef Fishing, Snorkeling & Diving, Sand Cays & Island Lagoon visits
AKOONAH ANGLING
Reef Fishing   -   From Pt Douglas

Our main target being the Giant Trevally, however, casting big poppers, high speed slugs and minnows in around green-top coral mommies you really never know what tootsie monster is going to tighten your line. We catch everything from Trevally to Trout, Spanish Mackeral, Cobia, Tuna and many more.
Half Day Inshore Reef & Wrecks $500
for the whole boat (max 4pax)
Full Day Inshore Reef & Wrecks $750
for the whole boat (max 4pax)
Full day Offshore, Great Barrier Reef & Wrecks $850
 for the whole boat (max 4pax)
Among the different techniques you will find yourself trying are, popper casting, spinning, jigging (wrecks and reef), soft plastic jigging and trolling. Quality spinning combos are supplied, loaded up with 30lb and 50lb braid, all loss of lures is covered in the cost, and believe us... you will lose a couple.
All of our Bluewater Sportfishing charters include, transfers to and from your accommodation, lunch, snacks and cold drinks, all tackle and equipment (although you can bring your own if you wish), sunscreen & hat and of course the whole boat to yourself.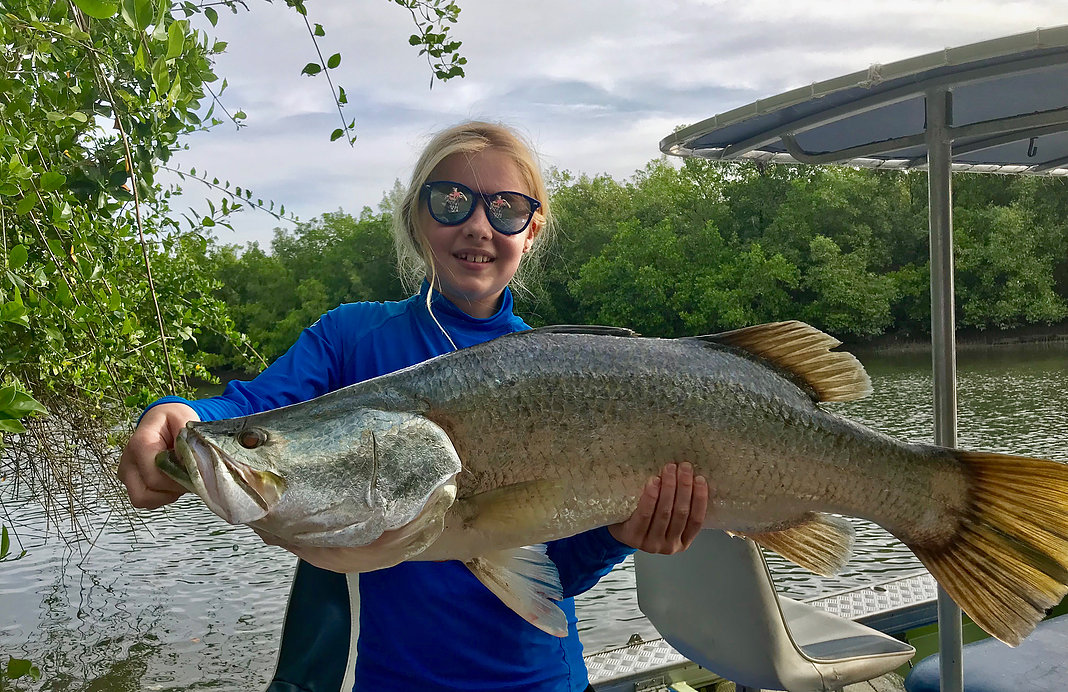 HOOK UP CHARTERS
Reef Fishing   -   From Pt Douglas

Hook a Barra, catch a mud crab or just enjoy a day on the water in beautiful Far North Queensland.  Let Shawry take you to his favourite inshore reef, mangrove estuary and rainforest fishing spots. Using lures, live or local dead bait, surface fishing with poppers or fly fishing.. let us know what you're up for its your day!
Full Day – 8 hours        1-3 people     $730          4 people        $780​
Half Day – 4 hours        1-3 people     $380         4 people        $430
3/4 Day – 6 hours.         1-4 people     $580
Maximum of 4 people, perfect for families.​
Half Day Share Charter     Maximum 4 people  $120 per person
Using an array of techniques, you will be targeting Barramundi, Mangrove Jack, Queen Fish, Javelin Fish, Coral Trout, Spanish Mackerel, Nannygai and many more... Whether you are a novice or experienced we have something for you!
Tours depart from the boat ramp on Ashford Avenue, next to the Combined Club, Port Douglas. All fishing gear, live and local bait, lures, bottled water and soft drinks, insect repellent and wet weather gear provided. Please bring lunch for a full day and don't forget your camera! BYO
EXCEED SPORTFISHING
Sports Fishing   –   from Pt Douglas
The reefs out of Tropical Port Douglas have some insane fishing to offer. From trolling for the tasty Spanish Mackeral to throwing surface lures for brutes like GT's and Red Bass, the reef has it all. If bottom fishing is more your style, then you have come to the right place. Coral Trout, Red Emperor and Large Mouth Nannygai all inhabit the reefs around Port and are a very tasty treat.
SPORT FISHING – Private $1500 
REEF FISHING    (max5 anglers)
Full Day – Private $1500      Share $265 (min 4)        
Half Day – Private $560       Share $130 (min 4)
RIVER & ESTUARY – Half Day – Private $560       Share $130 (min 4)
From May through until September we also have our annual run of juvenile Black Marlin which are great fun on the light tackle. Providing the weather is kind to us we can offer full day packages chasing the little power houses which have really put on a spectacular show.
The vessel, Escape 2, is a custom built Haines Hunter with all the bells and whistles. Powered with over 400hp, it is guaranteed to get you to the fishing grounds fast and in style.She has been set up with serious fishing and cruising in mind, from the latest Simrad Electronics, 3D scanning and Bluetooth stereo. Also recently added was a set of Reelax outriggers and new Loanstar Anchor Winch.The boat has ample Esky space to keep drinks, lunch and a feed of fish cold for days, and cover from the sun for those nice exciting full day Reef adventures.All tackle has been supplied from the well known company Penn with models including Slammers, Squalls and the Legendary Penn internationals.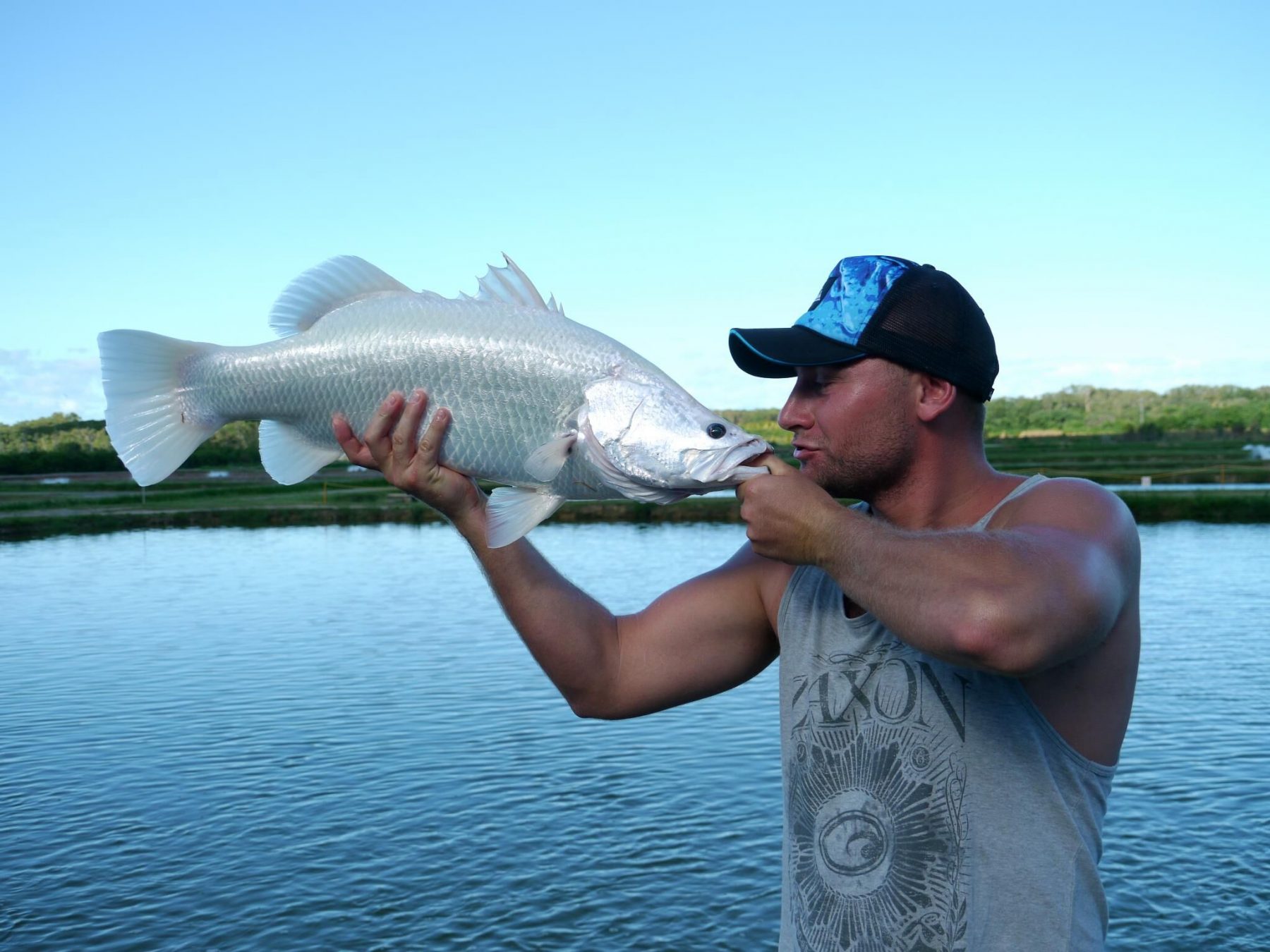 Hook-A-Barra – Daintree
Lure & Fly Fishing

Hook-A-Barra fishing adventures at Wonga Beach in the Daintree is the place to try your hand at landing a Barramundi or Mangrove Jack, there's even the chance to catch a stunning albino specimen. The pond is filled with the best salt water sourced from the Daintree River and stocked with over 1,500 Barramundi (including albinos) and Mangrove Jack.
This is an ideal option for all ages to get a taste of fishing in the far north, with easy access to the waters edge (no Crocs here), suitable for wheel chair access as well.
Catch & Release  $55 per person*, per hour. You have the option to purchase your fish at an additional $14 per kilo. *Please note children who are fishing independently with their own rod (aged 5-10) are $45 each. Smaller children (under the age of 5) who are accompanying paying fishing adults are free. Non-fishing guests are $10.00 general admission entry, which includes full use of facilities and entry to our viewing tanks. Catch and release fishing includes all equipment, tackle and bait and instruction on how to catch a Barramundi.
Daintree Saltwater Barramundi Fish Farms have won multiple awards at the Sydney Fine Food Show for their fish, so you can expect your Barramundi to deliver a fine dining experience. You can also purchase fillets on site.
Hook-a-Barra is the recreational side of Daintree Saltwater Barramundi Fish Farms, who have been producing Australia's best hand-reared Barramundi for over a decade. This is sustainable fishing at its best! Don't deplete Australia's limited wild stock, practise your lure and land techniques at Hook-A-Barra.
These are farmed Barramundi, but anglers won't be disappointed with their fight. They are wild creatures and will behave exactly the same as those living in rivers. Our fish are not trained to jump on your hook. Your technique is very important.
For beginners, guidance is provided by experienced staff. For experienced anglers (who may be skeptical about 'fishing in a pond'), this is your chance to practise your Barramundi catch and land techniques and try new lures and equipment. NB: For your safety and ours, there are no treble hooks allowed at Hook-A-Barra, we use single, barbless hooks only.
Hook-A-Barra also caters to Barramundi fly-fishers. BYO rods and tackle.   See more…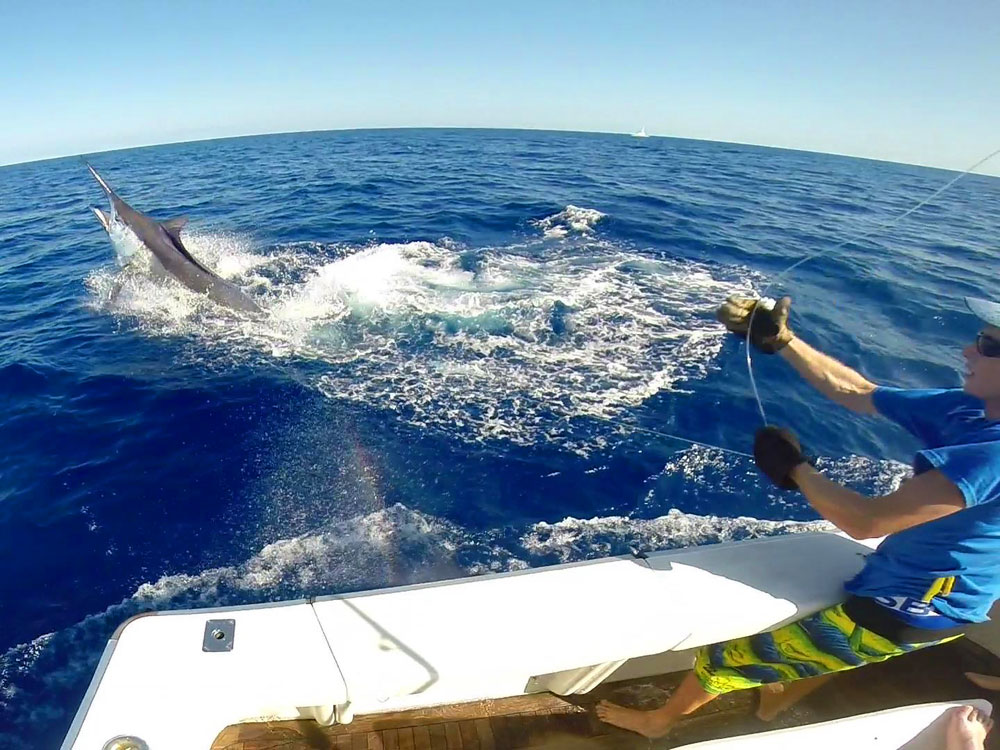 Saltaire Charters
Game Fishing

The 150 miles from cairns to lizard island is the undisputed home of the Giant Black Marlin. More Black Marlin over 1000Lbs (Granders) are caught here every season than anywhere else in the world. September to mid December is the best time to catch one of these monsters.
HEAVY TACKLE CHARTERS
Fishing for Giant Black Marlin is the ultimate experience of a lifetime. Saltaire is a classic 34ft blue water quarter-horse vessel and has witnessed some of the most exciting fishing to be experienced on the Great Barrier Reef, the coral sea and beyond to the vast reaches of the untamed waters of Papua New Guinea. Based in the Reef Marina Port Douglas, 30nm north of Cairns and a short run to the barrier reef , Saltaire is available for popper casting for Giant Trevally, light tackle, heavy tackle, reef fishing and personalised charters including cruising, snorkelling and diving. With comfort, speed and great service on your side you will be amongst the serious action on offer whether it will be giant Black Marlin, pelagic species, Giant Trevally or classic reef fish.
LIGHT TACKLE FISHING
Available all year round, the change of seasons brings different species to target. The run of juvenile black marlin are from july to october and are an exciting catch on 10kg line. There is a number of mackerel species to catch and can be caught most of the year. Other species are northern bluefin tuna, yellowfin tuna, wahoo, mahi mahi & giant trevally.
REEF FISHING CHARTERS
Reef fishing can be experienced all year round with a large variety of species. Rod and reel or the more traditional hand line can be used with dead bait, live bait or soft plastics when on a Reef Fishing Charter. The main species we target are coral trout, large and small mouth nanyagai, red emperor, spangled emperor, sweetlip, reef jacks & trevally.
GT POPPER CHARTERS
Casting Poppers for Giant Trevally is one of the most exciting forms of fishing. Watching a GT smash a surface bait and head straight for the reef edge or bommie can make you week at the knees. We specialize in targeting these big GT's and use Shimano Stella 18000 Reels with 100lb gerry brown braid on a Yamaga blue reef rod to land these amazing fish.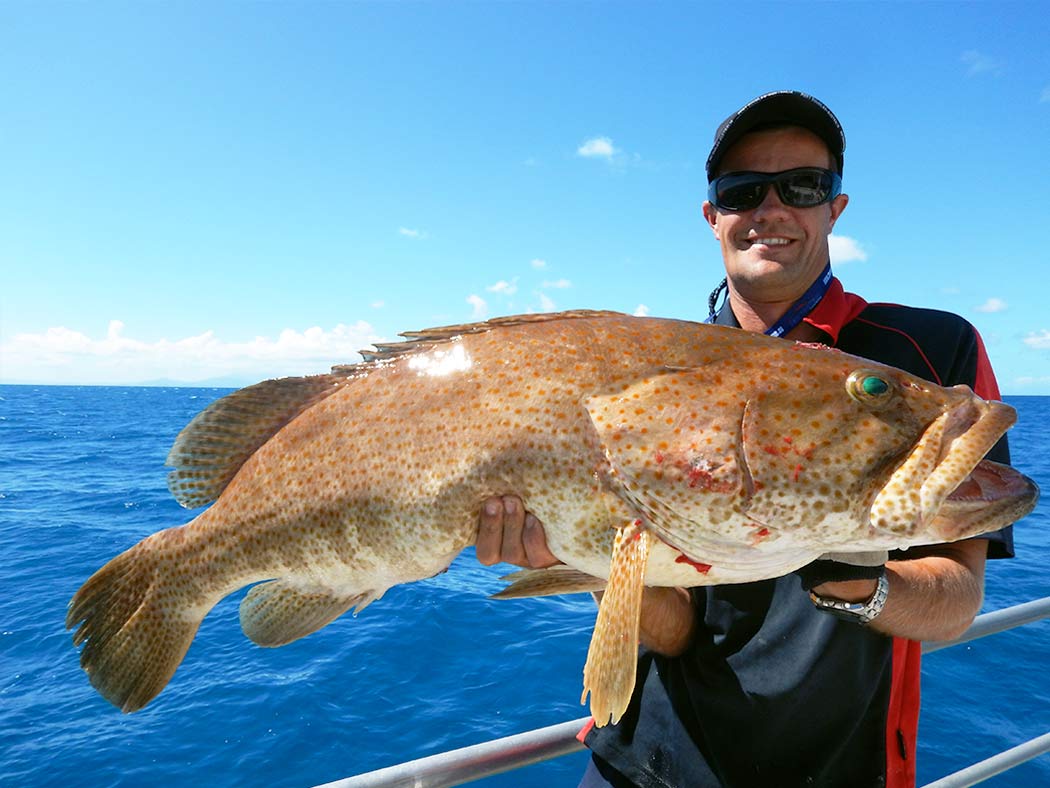 MV NORSEMAN
Reef Fishing  –   From Pt Douglas
Reef fishing from Port Douglas? Then look no further than Norseman! A custom-built reef fishing boat with the latest technology for fish finding and every modern convenience for your comfort. Norseman has ample shade, broad open deck space and a fully air-conditioned licenced saloon.
Pricing $280 per adult and $250 per child under 13yo.
Includes lunch, afternoon tea, all bait and tackle (rods and reels) Includes EMC (Reef tax)
Fish gutted and bagged for you to take home.
Port Douglas based MV Norseman is a fast and comfortable dedicated reef fishing vessel. Individuals, groups or corporate days can be catered for – if you want a great reef fishing adventure then Norseman is your best choice from Port Douglas.
Norseman specialises in a reef fishing adventure for all of the top quality table eating fish found in the Coral Sea. Norseman offers a daily reef fishing adventure where you can try your hand at landing some of the best fighting and eating fish the Coral Sea has to offer.
Species such as Coral Trout, Red Emperor, Sea Perch (Nannygai), Mackerel, Cobia, Trevally, Cod, Spangled Emperor and Reef Red Bream (Mangrove Jack) will be targeted whilst bottom fishing, using either handlines or rods.
Whenever possible, you can float live baits for GT's (Giant Trevally), Spanish Mackerel, Tuna and Wahoo on a Norseman reef fishing adventure.
With over 25 years local reef fishing history, Norseman is the longest operating fishing day tour in the region.
History and local knowledge of the best reef fishing spots that the Great Barrier Reef has to offer are an invaluable asset to have
Doreen Too Pt Douglas Fishing Charters
Reef Fishing   –   From Pt Douglas

Doreen Too Port Douglas Fishing Charters offer a variety of 3 to 10 day live aboard reef and estuary fishing charters. We fish throughout the Great Barrier Reef aboard the motor vessel Doreen Too operating from Port Douglas. Charters start from just $400 per person per day.
Enjoy all Doreen Too has to offer: In a
Sole Charter
you and a group of friends charter the entire boat.
Cost: $400 per person
, per day for 7 to 10 people or $450 per person per day for a minimum of 6 people. Or Join a Shared Charter In a
Shared Charter
you join other individuals who are sharing the charter.
Cost: $450 per person
per day for a minimum of 6 people.
Coral Sea Fishing and Adventure Tours cover the tropical east coast of Far North Queensland from Cairns to beyond the tip of Cape York.
Doreen Too is a magnificent purpose built charter vessel. She weighs 70 tons, is 55ft. long and underwent a recent major refit. She is an extremely comfortable live aboard vessel with long-range capabilities.
For fishing enthusiasts Doreen Too offers: Extended charters, live aboard charters, true sea going capabilities, air-conditioned cabins, generous accommodation, full walk around decks under shade, two sports fishing dinghies, ample refrigeration including snap freezers, large BBQ and drinks fridge on back deck.
Fishing activities include: Day and night reef fishing Trolling from mother ship and fishing dinghies for pelagic species Barramundi and estuary fishing available Mud crabbing Snorkelling, island walks and other activities available.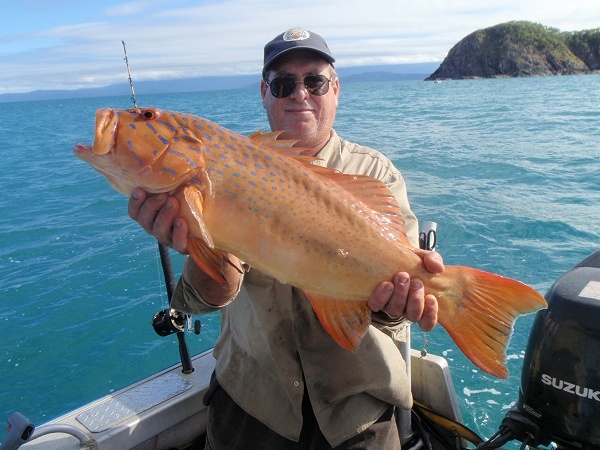 DAINTREE RIVER FISHING                                   
Reef Fishing   -   From Daintree
Our calm water Fishing and Nature Tour targets Barramundi, Mangrove Jack, Fingermark, Trevally and mudcrabs (when in season) whilst enjoying the wildlife and scenic beauty of the Daintree River.
COASTAL SPORTSFISHING & REEF CHARTERS Half Day (4 hrs)2-6 pax $120 pp.            Full Day (8 hrs)2-6 pax $240 pp. Sole Charter Half Day $400 - Full Day $800, 1-2 pax, extras POA.
The Daintree area is a Heritage Listed site, with spectacular scenery and magnificent waterways. You'll visit the local inshore reef and wrecks of the Daintree coast. Using a mixture of live baiting, lure, fly and trolling in search of Spanish Mackerel, Tuna, Coral Trout, Nannygai and reef sharks. Maximum 6 people and dependent on weather conditions.