EXTENDED FISHING CHARTERS
EXTENDED CHARTERS – FISHING CAIRNS
Tropical North Queensland boasts some of the last remaining wilderness fishing opportunities in Oz. You will be absolutely amazed at the clarity of the waters, the wilderness experience, and the diversity of life with its uninhabited islands, wilderness coastline, pristine rivers and of course one of the seven natural wonders of the world – Australia's Great Barrier Reef. Sometimes just being there is reward enough, and then we have the fishing. An extended charter is the best way to take in this magnificent environment.
Prime targets include Australia's premier light tackle sport fish, the mighty Barramundi (but don't be too focussed here or you'll miss all the other great species) The list is impressive indeed and includes Mangrove Jack, Fingermark, Queenfish, various Trevally species, King & Blue Salmon, Cod, Mackerel and Tuna like you've never seen before.
And along with quality reef fishing for Coral Trout, Red Emperor, Nannygai and Trevally; to game fishing for the monster Blue and Black Marlin, Sailfish, Wahoo, Spanish Mackerel, Yellowfin and other Tuna, G.T.'s and Mahi Mahi – chose the angling location and preferred fishing "style" to suit your needs.
Regions like the Hinchinbrook Channel, Princess Charlotte Bay, Seisia, the Torres Straits and Weipa are special and the quality of the fishing outstanding. Options include share and sole charter, live aboard or land based and Fishing Cairns can arrange everything ex Cairns including your return airfares, accommodation and guide / skipper to suit your angling preferences and budget.
As we say "if you can't catch it in Tropical North Queensland, its probably not worth catching" so why not let Fishing Cairns arrange that fishing holiday of a lifetime – the memories will live forever, and many will return.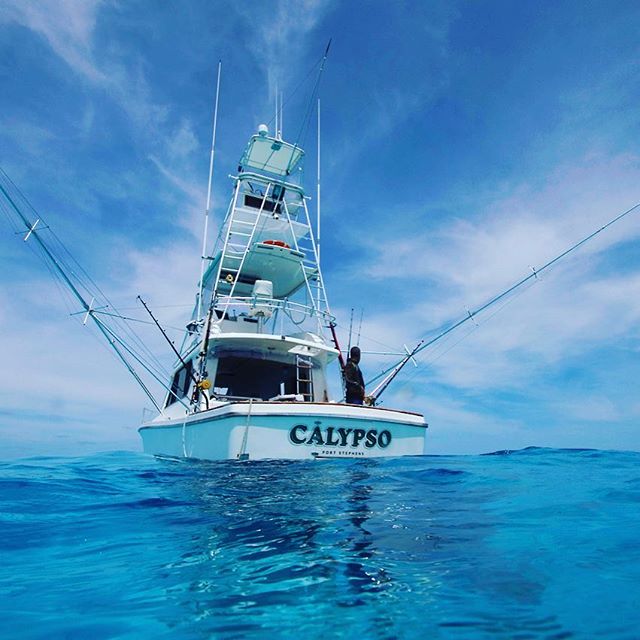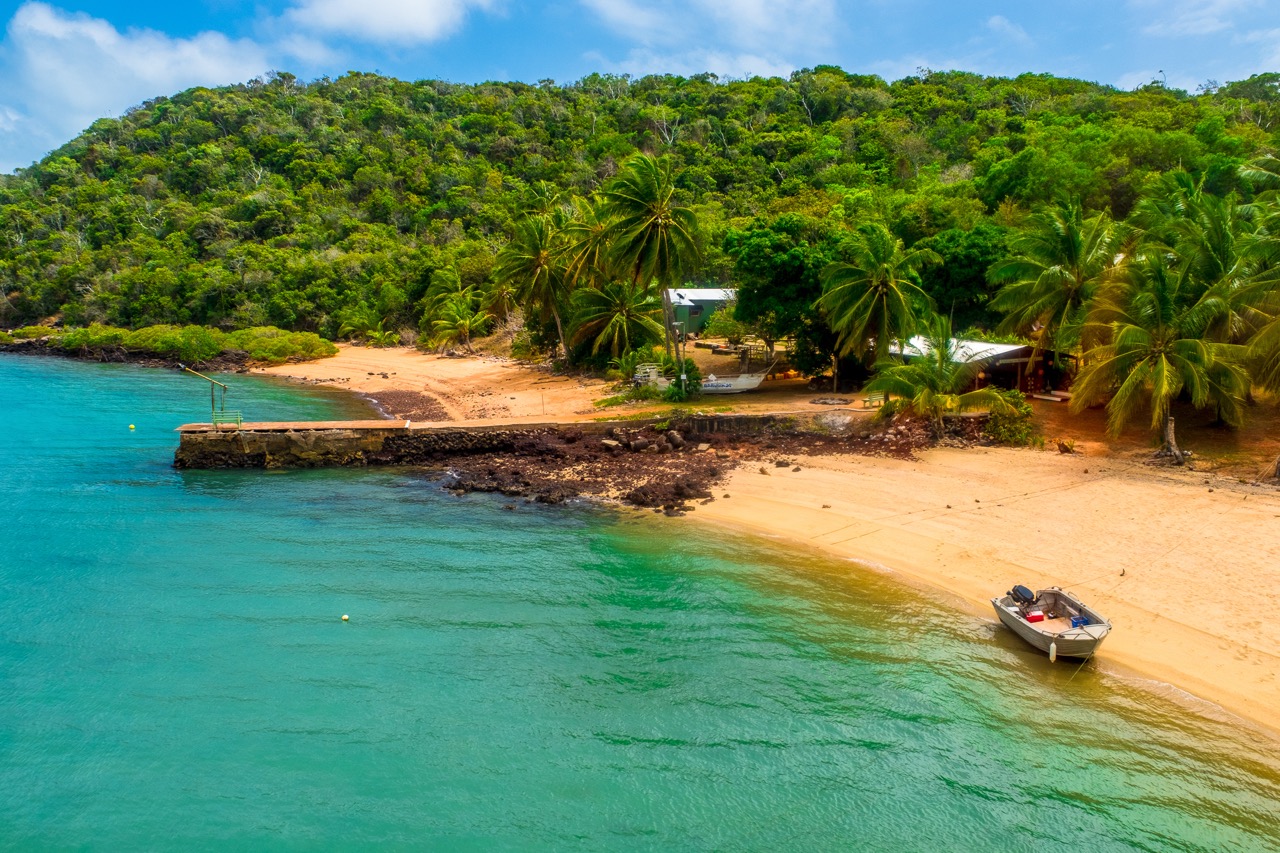 Reel Deep Charters
Extended Charter

Cairns is the gateway to the Great Barrier Reef. It's also one of the closest mainland ports, providing quick and easy access to the reef and marine wilderness of the Coral Sea beyond. Reel Deep Charters provides the best Cairns liveaboard charters, aboard Norkat II. For friends, fishing, spearing and fun!
CAIRNS LIVEABOARD FISHING CHARTERS
Our 4 day minimum Cairns liveaboard fishing charters cater to fishing and spearing fanatics. We'll load you up and take you offshore to some of the best locations, you'll ever visit. Suitable for families and/or groups of friends, Reel Deep Charters can accommodate up to 12 guests per trip. You'll be comfortably appointed aboard our vessel Norkat II which has spacious outdoor decks and a fully air-conditioned interior. This is a purpose-built fishing/spearing vessel and she is crewed by passionate, professional locals who know these waters like the backs of their hands. Reel Deep Charters is committed to providing their guests with the complete charter boat fishing experience and look forward to welcoming you aboard for one of our Cairns liveaboard fishing charters.
TO THE GREAT BARRIER REEF AND BEYOND
Where do we go? To the Great Barrier Reef and its surrounding Coral Sea locations, islands and sand cays. This is natures finest and it's your playground with a Reel Deep Charters liveaboard fishing expedition. We don't have a set itinerary. We'll select the very best locations to provide an awesome fishing / spearing trip, pending the weather and conditions. Being on the Great Barrier Reef you can be assured of a few factors. Pristine marine environment. Amazing diversity of fish and marine life. Great sport fishing and spearfishing opportunities. You can also expect blue sky, blue water, good times and some of the most amazing sunsets ever. Did we mention mind-blowing fishing?! Contact Fishing Cairns today to book your Cairns liveaboard fishing charter.
CAIRNS FISHING CHARTER BOAT
Norkat II is a purpose-built fish/spearing and tour vessel that was launched in July 2002. After running out of Mackay for a while, she's recently changed hands and locations, and is now based in Cairns, Tropical North Queensland at Half Moon Bay Marina. Norkat II is a fibreglass 72ft Westcoaster, fitted out specifically to cater to the comfort and needs of liveaboard fishing / spearing passengers. Offshore we are licensed to carry 12 passengers and four crew for extended, multi-day fishing and spearing charters. Norkat II is Cairns' newest fishing charter boat and has two desalinisation plants, providing the comfort of a continuous freshwater supply, even during the extended periods at sea. The boat is powered by twin 750hp Iveco V8 engines and has two 25kva generators. It's supported by two 6 metre centre console dories, with 150hp Honda four strokes. These are equipped with plotters, sounders and radios for your convenience and safety. Norkat II has a range of approximately 200 nautical miles at 10 knots, allowing us to travel long distances without refueling.
SPEARING & FISHING IN COMFORT
Everything on Norkat II has been designed to maximize passenger comfort and style, while they're enjoying extended fishing / spearing expeditions. Inside, the cabins, saloon and galley are all fully air-conditioned and Norkat II has various types of accommodation, suitable for families and friends. 2 x double cabins featuring 1 x double bed and 1 x single bed. 2 x twin share bunks with curtain separation. 1 x 4 quad share cabin with four single bunks. The saloon is well appointed with TV/DVD, sound system and ice machine. The galley has all the cooking facilities required, for your crew to create delicious meals and snacks. We've also got a large freezer and plenty of fridge space for all those fish. Norkat II has a purpose built extra, large deck allowing for outdoors entertaining and relaxing. There is the added convenience of two showers and toilets, which are easily accessible. State of the art navigation equipment and communications gives Norkat II instant and ongoing information for safe passage. Reel Deep Charters provides extended charters to the Great Barrier Reef and Coral Sea. Minimum 4 day charter.
Doreen Too Fishing Charters
Extended Charter

Doreen Too Port Douglas fishing charters offer a variety of 3 to 10 day live aboard reef and estuary fishing charters. We fish throughout the Great Barrier Reef aboard the motor vessel Doreen Too operating from Port Douglas, Cairns, Far North Queensland, Australia.
3-5 Day Reef Fishing Charter – Cost: $400 per person per day. With Charter No.1 you can enjoy a 3 – 5 day fishing and snorkelling charter out of Port Douglas to Undine Reef, St Crispin's Reef, Escape Reef, Ruby Reef and Irene Reef. Group requirements are from 5 to 10 people. Smaller numbers can be negotiated. We fish for Spanish Mackerel, Cobia, Tuna, Barracuda, GT's, Coral Trout, Red Emperor, and Large Mouth Nannygai. You will be reef fishing, popper fishing and all sorts of sportsfishing.
Three and a Half Day Shared Charter – Cost: $1,200 per person. Three day shared fishing charter for people other than groups. Minimum 6 people maximum 10. Smaller numbers can be negotiated. This is a great way to spend a few days fishing while on holiday in the tropical far north. As part of your holiday itinerary why not join Doreen Too for a few days fishing and turn your holiday into a Port Douglas and Cairns fishing charter adventure? Contact us today to find out when the next shared charter is operating and organize a couple of friends. Meet new friends and share the cost of a Doreen Too fishing charter.
3-7 Day Ribbon Reef Adventure – Cost: $3,300 per day for the group. 3 to 7 Day fishing, snorkelling and spear fishing charter. Fly in fly out of Lizard Island. We'll take you to the famous Ribbon Reefs and the spectacular Lizard Island. Groups of up to 6 people are great for this charter. Smaller numbers can be negotiated. You will be popper fishing and reef fishing for some of the largest fish on the Great Barrier Reef. The 10 Ribbon Reefs on the north eastern tip of the Australian continental shelf are home to some of the most spectacular fishing on the reef. With sheer drops into the deep ocean on one side and sheltered shallows on the other this region is situated far enough from commercial tourism activities to provide a pristine environment visited by few.
Any combination of days at sea and the number of people aboard can be negotiated. Call Fishing Cairns to discuss how we can help you plan your live aboard fishing adventure. Ph 0448 563 586
Port Douglas and Cairns Fishing Charters Inclusions
Included in all our charters are:
All meals
All soft drinks and water
Linen
Fishing rods
Hand lines.
Bait, sinkers and hooks
Embroidered Towel
Rods, reels and hand lines are supplied on a replace basis if lost or damaged. Fish boxes are supplied at cost ($8.00) for the shipment of your fish fillets.
Alcohol is not supplied with any Doreen Too fishing charter but may be consumed on board. This must be arranged prior to the charter and supplied by you at your expense and stored on the boat at your own risk.
Things to bring:
Sunglasses
Sunscreen
Lures, poppers and your favourite fishing rods
Walking shoes or sneakers
Common Sense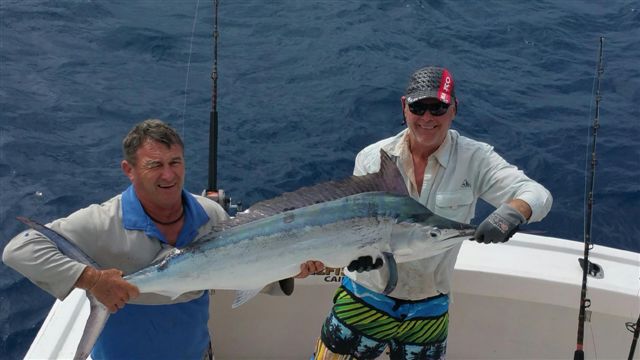 Billfish Sport Fishing
Extended Charter

Billfish can groom your extended live aboard charter to suit you, 3 , 5 , 7 or 10 day charter.  The longer the charter, the further we can go to explore the beauty and wonder of our reef and fishing world here in Tropical North Queensland.
Planning a holiday to Cairns to swim and /or fish on the GREAT BARRIER REEF, why not book an extended reef trip with BILLFISH on a live aboard charter?! The crew on BILLFISH will entertain you with fishing, swimming, snorkelling and eco marine life spotting.
BILLFISH is a 43ft sports fishing vessel. We can sleep 5 persons in comfort, plus crew.  A double cabin up front which can be converted to a twin, two more bunks opposite a large bathroom featuring a toilet, basin and shower and there are two bunks in the saloon area.
All meals, snacks,  bottled water, soft drinks, linen and towels supplied and included in the charter price.
Light Tackle charters: Depart Cairns 8:00am and steam out to our first destination
Fish Light tackle 15kg line trolling for palagic species in season such as Spanish Mackerel, Tuna, Sailfish, juvenile Black Marlin, Baracuda, Wahoo and more. Anchor overnight at a safe reef ancorage, enjoy yummy meals, a few drinks and many stories and in the morning have a swim / snorkel before heading out for another days exciting fishing,
Heavy Tackle charters: If it has been on your bucket list to catch a GIANT BLACK MARLIN, then read on:
We take a maximum of 4 anglers on our live aboard heavy tackle charters, depart Cairns Marina at 8:00 am and steam out to the outer reef.  We start the day with some light tackle fishing for fresh bait for the day and fresh fish for dinner, then set the big gear up to target GIANT BLACK MARLIN.  It will depend on the number of days booked as to how far we travel up to the Ribbons Reefs.  Just like the Light Tackle extended charters we anchor behind a safe reef at night and enjoy entertainment, yummy meals and a few drinks and in the morning have a swim and snorkel before setting off for the next days fishing adventures
Moana III Fishing Charters
Extended Charter

Moana III Luxury Charter Boat specialises in adventure fishing charters to remote areas of Princess Charlotte Bay, Cape York Peninsula, Gulf of Carpentaria and Papua New Guinea. These trips are tailored to suit your specific interests, skills or fishing experience.
We will show you the best of scenery, the best light tackle sportsfishing, the best barramundi fishing and reef fishing and give you not only a life time of memories to take home, but also containers of fish! We catch unbelievable amounts of Barramundi, Fingermark, Giant Trevally, Mangrove Jack, King Salmon, Coral Trout, Spanish mackerel, Red Emperor, Yellow and Blue Fin Tuna, Large Mouth Nannygai and Wahoo! These are all beautiful fish on the menu and we will whip them out of the ocean and straight onto the BBQ plate! Huge mud crabs, large black lip oysters are also plentiful in these regions and we have our fair share on each charter.
Princess Charlotte Bay is 350kms NNW of Cairns on the eastern side of Cape York Peninsula. Being shielded from the south-east trade winds, Princess Charlotte Bay provides an ideal haven for the keen angler and that is the reason for its popularity. The area plays host to extensive mangrove river systems, lagoons and offshore coral reefs. The fishing is as varied as the Great Barrier Reef itself with Coral Trout, Red Emperor, Mud Crabs galore, the mighty Barramundi, and larger Mackerel and pelagic fish. But its not all about fishing…. at your request, we can just cruise, explore historical aboriginal art on remote stanley island, search for the exotic and rare orchids of the far north, take some fantastic walks such as the famous Lizard Island's 'Cooks Look' and also bird watch a huge variety of large, small and the unique birds of Far North Queensland.
We can also take you snorkelling on the Great Barrier Reef, visit beautiful and remote islands in the Coral Sea or just relax and watch beautiful sunsets over the remote mainland!
As these expeditions are tailored to your needs, the price per day is dependant on your itinerary. Please contact us to find out more details and we can help you start planning your trip of a lifetime.
Black Label Sports Fishing
Extended Charter

Experience all of what Cairns and the Great Barrier Reef has to offer with an extended live aboard charter. Chasing giant Black Marlin, Reef Fishing and Sports Fishing Charters. These trips are conducted all year round (pending weather) and offer our guests all styles of fishing and accessibility to more remote fishing destinations.
Wake up each day in a totally different reef system and target new species each day, be it deep sea bottom fishing to trolling the outer reef for Grander Black Marlin. Light tackle game fish such as Yellowfin Tuna ,Wahoo and other assorted pelagic's. We offer a more private and personal fishing experience, with less people on the boat and fully air-conditioned comfort in the salon of the vessel. Sit down and eat lunch in comfort and get ready for the afternoons fishing activities.