Marlin
Fish Species Of North Queensland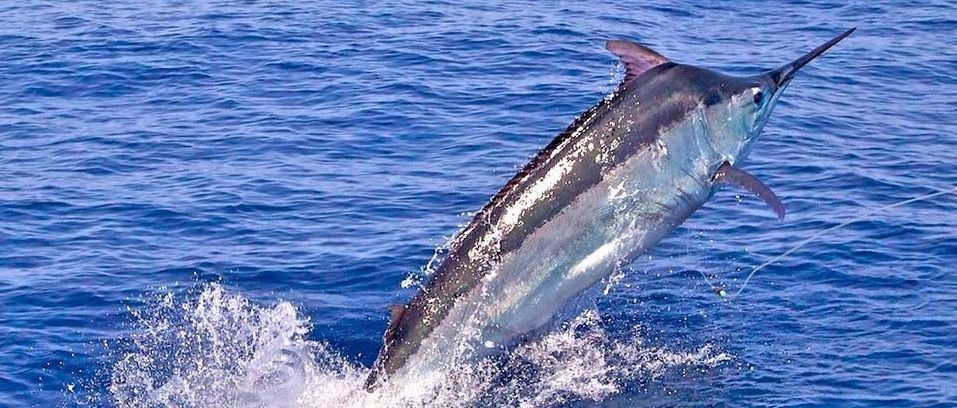 Marlin
The Cairns region has long been recognized as the Black Marlin Capital of the World with the area stretching from Lizard Island in the north, to just south of this beautiful modern tropical city, the envy of many fisherman.
More 1,000 lb + black marlin are caught in these waters each season than all the other known grounds put together. The region is regularly rated the number one gamefishing region on the planet.
However, it's not just a matter of putting on a large skirted lure or skipping bait and heading out to the blue water. There are specific seasons where certain techniques and target species are about and a basic understanding of these "cycles" is very important.
Every year commencing in early September, the giant female Black Marlin arrive from the wide Pacific Ocean to spawn along this 250 km stretch of the Great Barrier Reef. The rich waters off the reef and nearby continental shelf offering these breeders an abundant food supply.
This period is known world wide as the Heavy Tackle Marlin Season and extends through to late December or until the heavy tropical summer storms start to dump metres or rain, cooling and dirtying up the waters and forcing the whole system back out to sea.
There are distinct cycles at work here, first the huge bait-fish schools arrive, followed by their predators, the Tunas, Sailfish, Dolphin Fish, Wahoo etc. and it is these secondary predator schools, here to do their own breeding, that the marlin feed on. Big fish need big baits – you don't catch monster Marlin on Sardines. Refers to our rigs and bait section for more info.
An impressive array of gameboats and mothership options are to be found fishing on the outer edge of The Reef and Coral Sea in the region from Lizard Island in the north, to Dunk Island in the south.
Custom game vessels from 35 – 55 ft are available, all with the most modern fit out and electronics, some with sonar and underwater cameras to record that strike and capture. Top quality custom built tackle matched to precision made 80 -130 lb reels complete the picture. The experienced skippers and crew are world class.
These vessels, some of which have state rooms with ensuites, air conditioned cabins and salons, TV, VCR, CD music, galley and plenty of fridge and freezer space, are state of the art. They are set up for live aboard and extended charter options at this time of year.
Charters are usually "sole charter only" and the rate varies depending on vessel length, age, cruising speed, quality of fit out and skipper experience. (Refer to our charters section for more info and options).
This season (September to December) is world renowned for producing BIG fish, many vessels are booked out months and in some cases even years in advance.
It is also the prime tourist / holiday season up this way and the reliable fishing compliments the many tournaments conducted along the east coast during this period. Advanced bookings are essential if your bag is big fish in one of the world's truly magical places, Australia's Great Barrier Reef.
This does not mean that the fishing stops at other times of the year, far from it. Your targets and fish sizes are different however and Light Tackle Sportfishing is the go.
In addition to Marlin, this time of year also sees large numbers of Pacific Sailfish in attendance together with the usual toothy critter brigade including Spanish Mackerel, Tuna, Barracuda, Wahoo and Mahi-Mahi.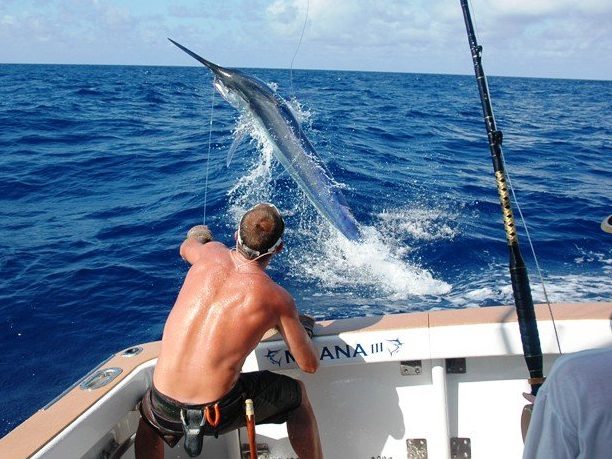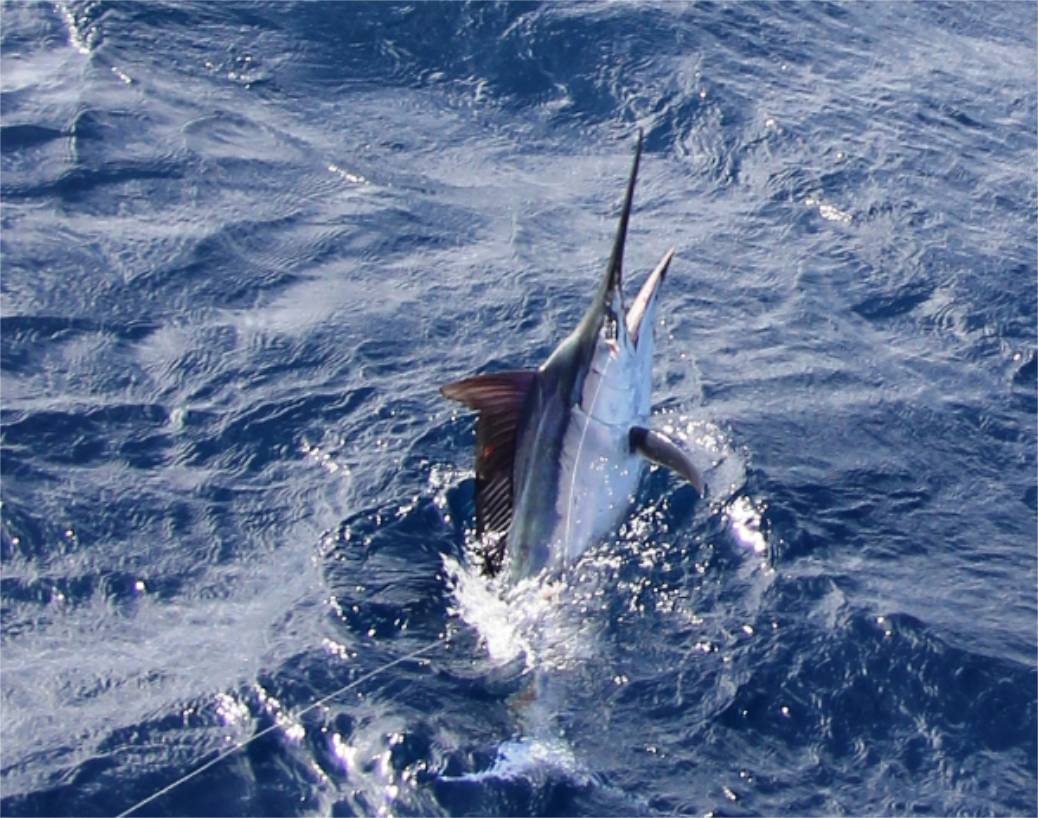 Marlin
To understand the fishing style and targets we first need to understand the biology of our Black Marlin. Its amazing to think that such huge fish still spawn and lay tiny eggs, all be it by the millions. But that's exactly what they do during the Heavy Tackle / breeding season. Once hatched these tiny lava, less than 3mm long, drift around the reef and then seem to just vanish ! Little is known about the habits of these very small critters, they are extremely fast swimmers and have avoided detection in any significant numbers to date.
Young billfish grow very quickly in length, but put on weight later in life. A long slender fish can swim very fast, and the theory is that the baby blacks don't stay small for very long. Some examples of these growth rates are provided here from an article published in "Blue Water Sportfishing" magazine by the well renowned Dr. Julian Pepperell.
13 mm at 13 days old
25mm at 17 days old
270mm at 45 days old
800mm at 79 days old
1800mm at 13 months (approx 30kg)
Juvenile Blacks are first encountered in areas inside the Reef off the Cairns region around May / June most years. At this time they may be as small as 5 kg but more commonly around to 10 kg mark. By July / August these fish (product of the last years spawning) are nudging 15 kg and can be found further south at places including Cape Bowling Green near Townsville. Tracking has shown these fish to gradually move south along the eastern seaboard of Australia, eventually dispersing east to the Pacific by late summer by which time they have grown to 30-40 kg.
The waters between Cairns and Cape Bowling Green near Townsville offer the best light tackle Black Marlin action in the world. These juveniles range from 30lb to 150 lb and offer spectacular sport on the right tackle.
We generally use 12lb, 16lb or 20lb test tackle and the fleet is equipped with quality Shimano, Penn and Finnor reels and custom rods.
Light tackle charters are available from February to September, with the best marlin action from June to September.
From October to January we fish outside the reef for a mixture of giant Marlin, Sailfish, Wahoo and Mahi-mahi.
Generally the same vessels working the Heavy Tackle season are available at this time of year although some well known skippers will follow the fish south and fish out of other ports including Port Stephens or the Gold Coast, or even travel to Hawaii for part of the year. Charter options can be either sole or share with a max. of six anglers per vessel quite common. (Prices are available on our charters page.)
Live aboard extended charters are also available during this light tackle season and fishing locations, not able to be reached during day charter operations, are just fabulous.
Some truly amazing fishing can come from the wide grounds and far off lightly fished reefs and shoals on the continental shelf. Fishing as wild and exciting as it gets.
These wide grounds can produce quality blue marlin to 700 lb through to about March, virtually extending the prime marlin season by three months. Other critters encountered include Dogtooth Tuna, Yellowfin, monster G.T.'s, Wahoo, Mackerel, Sailfish, Mahi Mahi, virtually every form of Pacific Game fish as well as the many reef dwellers.